Kefid machines are widely used in four important area, mining, crushing, grinding, beneficiation industry. More than 100 types of machines for customer to choose. The crushing plant capacity are from 10 ton per hour to 1000 ton per hour, which uaually equiped with jaw  crusher, cone crusher, impact crusher, sand making crusher and mobile crusher; The grinding plant provided by Kefid are from 1 ton per hour to 150 ton per hour with fineness of 50 mesh to 3000 mesh. Machines that used in grinding plant are ball mill, vertical mill, Raymond mill, MTW mill, super thin mill, coarse powder mill, hammer crusher mill, etc.
Equipment Application
Stone crushers are used to crush large size stone or rock to small size. The raw material input size can be 1000 mm, 800 mm, 500mm, 300mm, 200 mm, 50mm, etc. The final out put size can reach 100 mm, 50 mm, 30 mm, 20 mm, 10 mm, 5mm, 3mm, etc. If customer need stone powder, Kefid grinding mill can processding the raw ore size (no more than 1 mm) to the size of 50 mesh or 3000 mesh.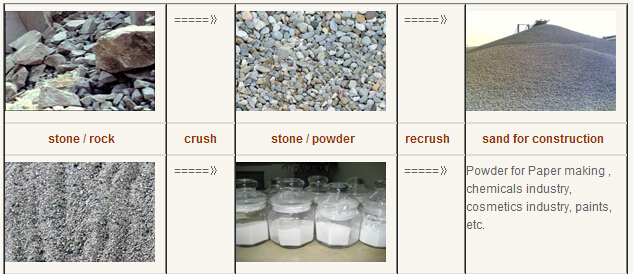 Why Choose Kefid
Bearing: All the bearings are supplied by Timken, which is a top bearing manufacturer in the world;
Motor: Our motors are from Siemens, or other world-wide known motor manufacturer;
Steel Structure: It is Q235 (UKstandard is 4360-40B(C),USAK02502), and the steel is from Bao steel company which is the large stell making company in China;
Casting Parts: All are from the top casting manufacturer inChina, which are authenticated both by ISO or CE, can guarantee the quality of equipment;
Main Shaft: They employ forging materials 40Cr、35CrMo, which are thermal refined, and thus have a much better performance;