425-2500 mesh grinding mill plant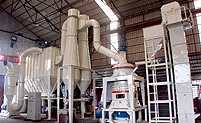 HGM series three-ring & medium-speed micro-powder grinding mill is designed basin on our 20 years' manufacturing experience, adopt the advanced Swedish machine manufacturing technology. It is a new type of mill for processing super fine powder, which is with test and improvement for more than 20 times. It is the latest type of micro powder grinding mill.
HGM series three-ring medium speed micro-powder mill is designed to get fine and super fine powder. It is mainly used to process more than 200 kinds of non-inflammable, non-explosive and brittle materials with Moh's hardness under 6 scales, such as calcite, chalk, limestone, dolomite, kaolin, bentonite, talc, mica, magnesite, illite, pyrophyllite, vermiculite, sepiolite, attapulgite, tablite, ceyssatite, barite, gypsum, alunite, black lead, fluorite, phosphate rock, potassium ore, floatstone etc.
Output Size (mesh)
Capacity (t/h)
Equipments List
Model
Quantity (set)
Powder (KW)
425-2500
0.5-12
Hammer Crusher
PC600×400
1
18.5
Bucket Elevator
Y110L-4
1
3
Hopper
-
1
-
Vibrating Feeder
GZ1F
1
0.06
Main Unit
HGM100
1
110
Separator
Y2-225S-4
1
37
Blower
Y2-280S-2
1
75
Impulse Bag Filter
DMC184
1
 -
Discharging Valve
Y80M2-4
1
0.75