Calcite Crushing Process Design
Calcite is a very widely distributed mineral, mainly used in chemical, cement and other industrial raw materials. Calcite used as flux in metallurgical industry, used in the production of cement, lime in the construction industry. In industry, it mainly used for plastics, paper, toothpaste. Allow for filling food additives. In recent years, with the calcite in the field of plastics, rubber, paper, pharmaceutical, food, building materials, chemical, paint, feed and depth of application, high-quality calcite material has a broad development prospects.
Calcite crushing process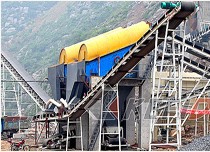 Calcite stone blasting down from the mountain, through the dump truck chunks of stone into the feeder, vibrating feeder, jaw crusher uniform stone into the calcite, calcite jaw crusher stone first times crusher, out from calcite jaw crusher, bulk materials and then into the lower section Bulava break secondary crushing shaping. Circular vibrating sieve screening, the large size of undesirable materials by conveyor belt back to Sec calcite Bulava broken and re-broken, the finished product is transported by belt conveyor to the finished product area.
Calcite crusher
In calcite broken, according to the size of the stone, finished particle size, and yield considerations, you can choose different types of crushers, such as large PE series jaw crusher, Jaw crusher, crusher, the European version of the crusher, the the CS high efficiency spring cone crusher, HPC hydraulic cone crusher is a good choice.
Calcite mill
Calcite in the processing equipment in accordance with the the processing fineness of different, can be divided into: calcite sand 6-10 mesh,10-20 mesh equipment used is the European version of the mill; calcite powder below 325 mesh, mainly used in the device is Raymond; purpose of more than 325 calcite ultra-fine powder uses the most widely used, mainly used in calcite strengthen superfine mill.
If you need to know calcite crusher, calcite mill, calcite mobile crushing station, the calcite crushing production line equipment and technical support issues, please contact the company.