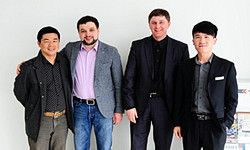 As a leading company in China, Kefid machinery company's equipment has been widely exported to global market, and widely used in mineral ore mine mining, quarry stone crushing and screening, ore grinding and beneficiation and other industry. Now, we need global business partner who can cooperate with us so as to develop the new market and supply best service for our customers.
Business partners are including buyer, agent and distributor. They are need in more than 50 countries, if any friend interest, can contact us for more details and get more support. By now, our machines are mainly used in Indonesia, Malaysia, Vietnam, Australia, South Africa, Nigeria, Ghana, India, Algeria, Congo, Russia, Ukraine, Mongolia, the United States, Colombia, Chile, Mexico, Peru, Ecuador, etc. We also need to development new market in your side.
Agent & distributor requirement:
do your have experience in mining and crushing area, or experience in sell machines or import & export company. If you have none experience, it will not suitable for you and may waste your time.

do you have customer in hand? or customer who may need machines? It is important for you to start work.

the most suitable agents should be mining & quarry engineer, people who have used the machines, and the import & export company. The more important thing is that you can find the true customer for us.
What we can support for you:
It's not a job but a cooperation, you can get more commission if you can find more true customer, you can chat with our online manager for more details;
we can send company information & machines' catalog to you, and provide with complete support;

you can take customer to visit our company and get a further understand of our machines;

we can arrange delivery and provide after-sales service for the customers, you can see our service at website or get them by chat online.