Steel Slag Crusher and Grinding Mill
Steel Slag crusher and Steel Slag grinding mill are used to processing Steel Slag to small size or slag powder, then the material can be use in deep processing industry. Slag properties vary greatly, it is subject to charge, smelting of steel and method of operation, and many other factors. Slag by smelting process can be divided into: the initial slag, slag, poured steel slag. Some of the latter three collectively known as the late slag slag. Slag by morphological distinction are: water quenching granular slag, slag and powdered slag lumps.
Slag Main Ingredient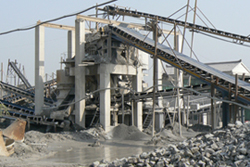 (1) the elements in the metal charge is oxidized to generate oxides and sulfides;
(2) erosion of the lining and fettling material;
(3) into the metal impurities such as sediment charge;
(4) to adjust the nature of the added slag slagging materials such as limestone, iron ore, fluorite.
Slag utilization range, generally based on its chemical composition. Calcium oxide content of cement with high slag suitable; calcium oxide, magnesium oxide and high iron oxide content of slag and iron in the production of sintering use; phosphorus pentoxide to produce a high content of phosphorus slag.
Slag grinding equipment  is the necessary equipment in slag treatment process. Common slag grinding equipment including slag crusher and slag mill. There slag crusher jaw crusher, impact crusher, cone crusher, mobile crusher. There slag mill ball mill, Raymond mill, vertical mill, jet mill and so on. Kefid machinery is a professional production crusher and milling machine manufacturers, and its products have been exported to the world more than 180 countries and regions. Many manufacturers have chosen Kefid slag processing crusher and grinding mill equipment as slag. If you need to buy  slag grinding equipment or learn slag grinding equipment related information, then please contact us online customer service.