Pebble Crusher and Crushing Plant
Pebble also known as river stone or cobble stone, which is widely used for making material for building industry, the most used crusher machines are pebble mobile crusher, pebble jaw crusher, pebble cone crusher or sand crusher. Here we recommend to you the suitable crusher for your choice.
From pebble stone crushing to its screening, there will be entire line for cobble stone quarry mining plant. The crushing screening plant manufactured by Kefid delivers unbeatable efficiency, reliability and productivity.
Pebble mobile crusher: the complete crushing unit including feeding, crushing, and screening process. Cobble mobile jaw crusher includes vibrating feeder, primary jaw crusher, vibrating screen, and belt conveyor. So as the cobble mobile impact crusher, cobble mobile cone crusher, and the crawler type mobile crusher.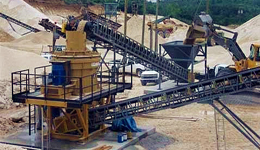 Pebble jaw crusher: widely used as primary crusher and mainly used in primary crushing process. Its feeding opening varies from 105×250mm to 1200×1500mm. The capacity is between 1t/ph and 1000t/h.
Pebble cone crusher: used as secondary crusher and mainly used in secondary crushing process. Kefid provide you with many different types, such as CS cone crusher, Spring cone crusher, and HC series cone crusher with hydraulic presser.
Pebble vertical impact crusher: with the functions of crushing and shaping, it can make the products in very good cubic shape. The cobble crushed VSI crusher is suitable for road, highway, water conservancy, airport, civil construction etc. It also has competing advantages in the stone market with a higher price because of its excellent quality (finer and in good shape compared with that crushed by normal jaw crusher and cone crusher).
For more information about pebble crusher and crushing plant, pebble processing technology and application, please contact with Kefid engineer team to get more support.