Kefid company specializes in producing medium and large Raymond mill, with 22 years manufacturing experience in powder milling filed, we have been a leading grinding mill manufacturer and supplier in China. R series Raymond mill is optimized by our experts, combines low consumption, low investment, and environment friendly, small occupation area, it is more efficiency than the traditional Raymond mill.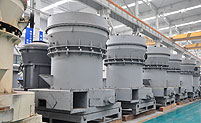 Raymond mill is widely used in metallurgy, construction materials, chemicals, ores to produce powder, which is suitable for non-flammable and non-explosive ores with Mohs hardness below 9.3, humidity below 6%, such as Gypsum, talc, calcite, limestone, marble and feldspar, barite, dolomite, granite, kaolin, bentonite, stone, bauxite, iron oxide red, iron ore and so on. Fineness of product ranges from 0.613mm to 0.44mm. With joint effects of analyser and fan, different requirements of customers can be fulfilled. It is the ideal equipment for grinding industries, especially suitable for small and medium enterprises.
 Features
Raymond mill adopts a vertical structure, which is small in working area, and easy to be allocated as a set, each process from bulk material to powder product can be a independent production system.

Finished powder has even fineness, a screen passing ratio of 99%, which is not possible for other mill equipment.

Drive unit is the closely sealed gear box and belt wheel, which is stable in transmission and reliable in operation.

Key parts of the raymond mill are all high-quality style, wearable parts are of high-performance abrasion resistant material. The whole equipment has perfect performance, reliable operation. Blade frame of the main engine is always contacting with materials. Thus the blade frame is composed of two parts, while bottom frame is worn, discharge is continuous and changeable.

Electrical system adopts contracted control, grinding workshop can basically run without people, and is convenient to maintain.

Less dust and lower noise.
Technical Parameter :
Mm to inch conversion: 25.4millimeters=1 inch
The humidity and hardness of raw material will affect the fineness and capacity.
Model

3R2115

3R2615

3R2715

3R3016

4R3216

Roller

Number

3

3

3

3

4

Diameter (mm)

210

260

270

300

320

Height (mm)

150

150

150

160

160

Ring

Inside diameter (mm)

630

780

830

880

970

Height (mm)

150

150

150

160

160

Maximum feed size (mm)

15

15-20

15-20

15-20

20-25

Output size (mm)

0.044-0.165

0.044-0.165

0.044-0.165

0.044-0.165

0.044-0.165

Power of main frame (kW)

15

18.5

22

30

37

Fineness of final product (mm)

0.165

capacity (t/h)

1.2-1.8

1.8-2.5

2.3-2.8

2.6-3.2

3.2-4.5

0.075

0.6-1.2

1.2-1.8

1.8-2.3

1.9-2.6

2.4-3.1

0.044

0.6-1.0

0.8-1.2

0.9-1.7

1-1.9

1.8-2.5
Note: We hold the rights to modify the design and specification of our products, any modification shall not be advised additionally.