Manganese Ore Crushing Plant
Manganese ore is an important raw material for processing manganese. In nature, manganese is a silvery gray metal that looks much like iron. The most important two manganese minerals are pyrolusite and rhodochrosite. Manganese ore and its compounds are used in various fields such as mining machines manufacturing, processing of manganese ores, iron and steel industry etc.
Manganese Processing Flow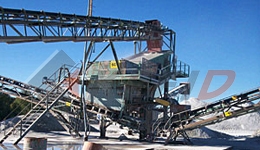 Manganese ore have different application, so there have many types of manganese ore processing technology. Such as use manganese ore crushing plant to crush manganese ore into small size; use manganese ore grinding plant to processing manganese ore to powder, use manganese ore washing plant to clean manganese ore, use manganese ore beneficiation plant to processing manganese ore powder and get high grade manganese, etc. These processing technology are chose according customers' different requirement, Kefid can provide you with these manganese ore processing plant and equipments which are used in the plant, can also design suitable plant and complete technical support.
Manganese Crushing Equipment
In manganese ore stone process, many types of equipments can be used. The main machines are the crusher equipments, including jaw crusher, impact crusher, european type impact crusher and cone crushers, etc. Among these crushers, the more advanced processing equipments for manganese ore are hydraulic cone crusher and european type impact crusher. There are also have many optional equipment, such as ore vibrating equipments, mineral screening machines and ore convey equipments, etc.
Manganese Crushing Line
Manganese ore crushers are used in crushing plant, usually, the European Jaw Crusher may be employed as a rough crusher; then use the impact crusher or cone crusher as a secondary crusher. After this, manganese stone have to do the final grinding, the choice of grinding mill is also important. Manganese ore within the method of crushing need to use the vibrating feeder, conveyor belts along with other mining equipments. kefid company can be a professional manufacturer of mining equipments, can supply you with the version of manganese ore crusher, we can also provide you with manganese ore crushing plant from 10 ton per hour to 1000 ton per hour, these crushing plant can be used in many countries.