Sand and gravel crusher plant
Sand and gravel production line is the most popular stone crushing plant types, most of Kefid customer by this type crusher and plant for making gravel sand. Usually, the production of finished products including stone and sand, also known as aggregates production line. For processing gravel, we recommend to you the mobile crusher and fixed crusher. There also have other required equipment.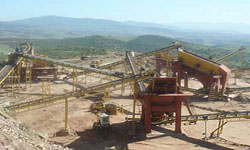 The sand and gravel production line consists of vibrating feeder, large jaw crusher, small jaw crusher, VSI crusher, vibrating screen, vibrating feeder, conveyor belt and electrical controlling system. The crushing manufacturing capacity is from 30 TPH to 1000 TPH. The last grain dimensions of the products will be in fractions of 40-70 mm, 20-40 mm, 5-20 mm (spherical holes) and made sand in a 0-5 mm fraction. Based on the customers' needs, we also can equip cone crusher, dust catcher on the sand and gravel crushing plant.
Kefid is a larege and sand and gravel equipment manufacture, and our products all adopts national advanced technology. The sand and gravel quarry machinery not only have excellent performance, but also have suitable cost. And the price is based on the selecting equipment model, so if you want to know the cost, please contact us by customer service and tell us your needs, we will help you select suitable equipment and provide the equipment quote! So if you need more details in choose the gravel sand making crusher, other sand making technical, can contact our online engineer team for more support.