Granite and basalt crushing line 3000 ton per day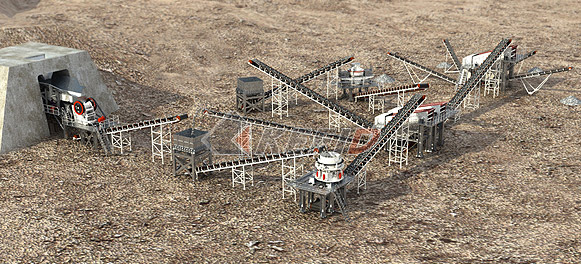 Granite and basalt the inportant material in making aggregate. Here we show you how to design a complete granite and basalt crushing line with a capacity of 3000 -4000 ton per day or 600-700 ton per hour. If you need other capacity or for other material, please contact with us for the suitable support. In fact, for different material, engineer should consider many factors, but we can do more better than you can expect.
In processing line, after blasting, the raw stones below 1020mm will be fed into the vibrating feeder ZSW1500x600 from the dump truck. The stones will be fed into the jaw crusher PE1200X1500 continuously for primary crushing to be 150-300mm. After crushed by the jaw crusher, the stones about 150-300mm will be fed into the hydraulic cone crusher HPC400 for secondary crushing. After secondary crushing, the outputs will be transported to the vibrating screen 2YZS2460 for screening, the parts bigger than 40mm will be transported back to the cone crusher HPC400 for re-crushing, the parts below 40mm will be transported to the vertical shaft impact crusher VSI DR1145 for tertiary crushing and shaping. After tertiary crushing, the outputs will be screened by the vibrating screen 3YZS2160 for screening to the size we need, then transported to the final products area.
Note: when the raw materials is smaller than 320mm, there will be no need to install the primary crushing, they can be fed into the cone crusher directly for crushing.