VSI series crushers(Sand Making Machine) made by kefid are specially designed for sand making and trueing of various stones and rocks. Kefid has developed internationally advanced patent technology which is able to provide users with high efficiency, less using cost. We have two types of VSI crusher: Deep Rotor VSI Crusher and B Series VSI Crusher. They are suitable for medium and fine crushing of different hardness of varied ore and rock, such as iron ore, nonferrous ore, diamond, bauxite, quartz sand, corundum, perlite, basalt and other aggregate material' medium and fine crushing.
Deep Rotor VSI Crusher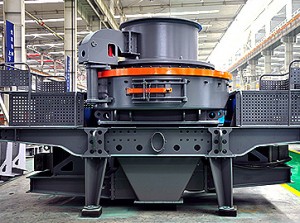 Deep Rotor VSI Crusher integrates many patents and three crushing methods, is a new and high efficiency crusher.  The rotor of deep rotor VSI crusher has been specially optimized design, which makes the capacity increased by about 30%. Around guard adopts innovative design to improve the service life of over 48%. Increase vice hammer to prevent from damaging the side plate after the main hammer wear and tear. The most key wear resistant material uses wear resistant and high temperature resistant material in American important area. Japanese hydraulic opening cover device is originally imported.
Main technical parameters:
model

DR-7615

DR-8522

DR-9532

DR-1145

Throughput capacity (t/h)

Center and Ring feeding

150~280

240~380

350~540

500~640

Center feeding

70~140

120~200

180~280

250~360

Max. Feed Size (mm)

Soft material

<35

<40

<45

<50

Hard material

<30

<35

<40

<45

Rotation speed (r/min)

1700~1900

1500~1700

1300~1510

1100~1310

Power of double motor (KW)

110~150

180~220

260~320

400~440

Overall dimension L x W x H (mm)

4100×2330×2300

4140×2500×2700

4560×2600×2900

5100×2790×3320

Weight (t)

8.6

11.8

17.5

27.5
B Series VSI Crusher
B series VSI crusher is newly researched equipment, with international advanced level. The machine is specifically for the production of high-quality gravel aggregate used in highway, railway, high-rise buildings, municipal, hydroelectric dam construction, and concrete mixing sand, and it is the first choice of the artificial sand making area and stone shaping area. It is applicable to the fine crushing techniques in the front of mining sector, and applicable to the material crushing of building materials, mining, refractories, cement, and abrasive industry. Besides, it also can be used in highly abrasive material and secondary disintegration crushing of it.
Main technical parameters:
Model

B-7611

B-8518

B-9526

B-1140

Capacity (t/h)

Center and Ring feeding

120-180

200-260

300-380

450-520

Center feeding

60-90

100-130

150-190

225-260

Max Feed Size (mm)

Soft material

<35

<40

<45

<50

Hard material

<30

<35

<40

<45

Rotation speed (r/min)

1700-1890

1520-1690

1360-1510

1180-1310

Power for double motor (kW)

110-150

180-220

264-320

400-440

Overall Dimension L×W×H (mm)

3700×2150×2100

4140×2280×2425

4560×2447×2778

5000×2700×3300

Weight (t)

7.8

10.3

16

25.6